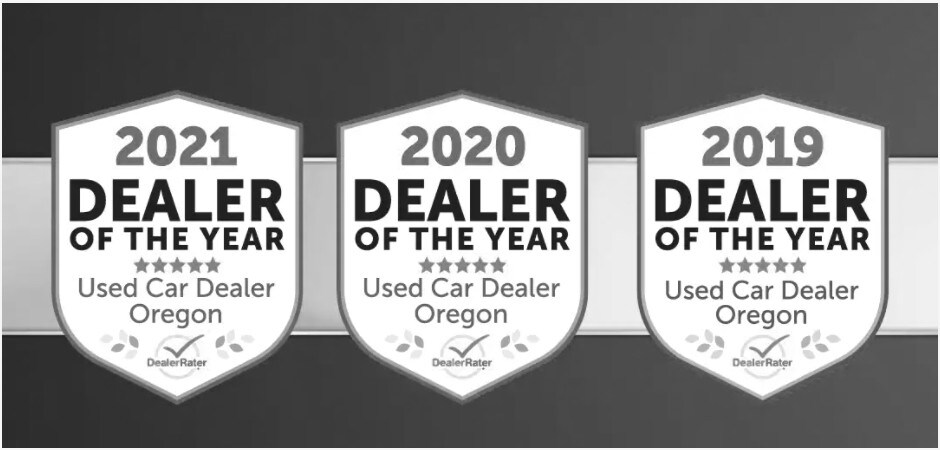 2019, 2020, & 2021 Used Car Dealer of the Year
Being able to experience high levels of satisfaction when finding your next vehicle is high on the list of shoppers everywhere in the greater Tualatin Valley and beyond. At Royal Moore Mazda, we take great pride in ensuring your experience is always satisfactory as we go above and beyond to help you in your process. Our efforts have helped our dealership earn a DealerRater 2019, 2020, & 2021 Used Car Dealer of the Year Award in Oregon and that's because the positive experiences we provide you!
The awards started in 2009 to recognized the top dealerships across the United States and Canada, and we're happy to say that we've earned the distinction as a Certified Pre-Owned and Used Car Dealer for the state of Oregon. That's because in addition to the many new vehicles we have, there's lightly-used certified pre-owned options that are inspected, have low mileage and are ready to perform, while additional savings can be had with used cars of all makes and brands in our showroom serving Tigard, Aloha and the Beaverton and Portland, OR areas.
We earned the award by having over 25 positive reviews in the calendar year on DealerRater, as well as an average rating of 4.0 our of 5.0 for reviews in the calendar year. We got a high score from DealerRater's PowerScore™ topping all certified pre-owned and used car dealerships in Oregon to win the award.
It's a testament to our team as we treat you with respect and truly help you find the ideal fit based on all your different factors from style, features, and price. From the moment you come in, we give you the freedom to explore options and get a hands-on feel for many of our vehicles both new and used, because we understand the big decision your making, and want to help you make the right one.
We also have to say thanks to all our customers who left their feedback and helped spread the word about our high level of service on review sites like DealerRater.
If you're in search of a new Mazda or used vehicle, our team here at Royal Moore Mazda would be happy to get started with you soon, so contact us today!
Serving Hillsboro, Beaverton, Tigard, Aloha OR, Portland OR, Wilsonville, OR.
Schedule a Visit at a Dealer of the Year