The 2018 Mazda CX-3 is one of the best SUVs available on the market.
There are a variety of reasons this is true, not the least of which is cost.
Monetary considerations weigh heavily when it comes to any car purchase and affordable SUVs are rare, but the Mazda CX-3 fits into that category.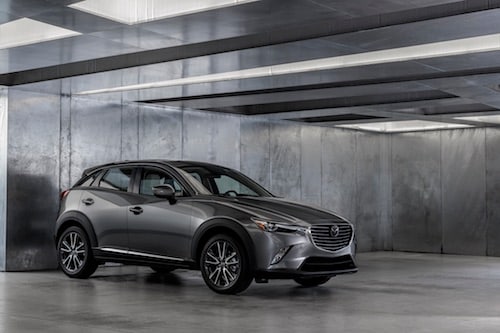 Technological and safety features are often key to a vehicle purchase as well and the Mazda CX-3 rates highly in those categories by the industry's most trusted publications. So, when shopping for a Mazda in Portland, Oregon, the Mazda CX-3 should be at the top of your list.
Excellent Value
Prices for the Mazda CX-3 start at around $20,000, making it one of the lowest-priced vehicles in the subcompact crossover class. Typically, an SUV with this combination of class, space, cutting edge technology, and fantastic safety features costs at least $25,000 so when you buy a Mazda CX-3, you know you're getting a great deal.
There are some in this class that are slightly cheaper, but the Mazda CX-3 top-of-the-line features, great fuel economy, and A+ level performance mean it is the best in its class at providing bang for your buck. This is absolutely worth remembering when you are looking to purchase a new vehicle, especially if you are shopping for a Mazda in Portland, Oregon.
Perfect Amount of Space for a Family
The Mazda CX-3 can seat five people, two in the front and three in the back, which is great for a family that has more than one child. In addition, the Mazda CX-3 is also ideal for any family traveling with an infant because each of the outboard rear seats have a full set of latch connectors, so you can easily strap in a car seat.
However, just having the space for children is not enough. You need a car that is specifically designed to keep them, and you, safe. Thankfully, the Mazda CX-3 fits the bill here, too, as all seats offer plenty of space and support, as well as ample side bolstering to hold everybody in place during sharp or sudden turns.
Technology is Your Friend
Each Mazda CX-3 is equipped with state-of-the-art technology, which includes a 7-inch touch screen, a console-mounted control knob, and Bluetooth. With these tools comes a system called "Mazda Connect," which is a user-friendly apparatus using both the touch screen and control knob to access all of the driving and navigation options.
The screen is easy to view because it is located high on the dashboard, so it is in the driver's direct line of sight. This modern technology can be a fantastic tool for both navigation and safety.
Convenience is a major benefit here as well, since you can punch up directions right to your front screen without looking at a map or fiddling with your phone.
Plus, you can use easy-to-view cameras to check your blind spots.
Stay Safe
There are many reasons why it is to your benefit to buy a Mazda CX-3, but safety may be number one on the list. The Mazda CX-3's safety scores are through the roof, with five out of five stars overall from the National Highway Traffic Safety Administration.
The Mazda CX-3 also earned five stars in front and side crash tests, and four stars in the rollover test. There are several reasons for this. First, each model comes equipped with with a rearview camera and low-speed automatic emergency braking. These make parking accidents - both backing into and out of parking spaces - far less likely. They also make traffic accidents less frequent since the automatic emergency braking system helps avoid issues with the emergency break.
Not only are these safety features a gigantic help in the mission of keeping drivers safe, they are also a terrific bargain for those who purchase the Mazda CX-3, because they are very rarely available in vehicles that are this affordable.
The low price point also allows the owner to have extra money to invest in additional safety features if he so chooses, which can be purchased for a moderate increase in price. These additional safety features include forward collision warning, lane departure warning, blind spot monitoring, rear cross traffic alert, and a traffic sign recognition system.
The ease with which the Mazda CX-3 can be maneuvered is an understated safety feature as well. The Mazda CX-3 can easily handle traveling stretches of pavement and rough roads, rolls very little when turning at high speeds, and the power steering system is a joy to operate. This is all on top of the standard front-wheel drive, which can be upgraded to all-wheel drive without much cost.
Feel Classy
The cabin of the Mazda CX-3 has an incredibly modern look and feel to it and is constructed using only premium materials. This kind of interior upscale look and feel is very rare in a model of this price, and is generally reserved for vehicles that are far more expensive, serving as another example of the terrific value the Mazda CX-3 provides for those who purchase it.
Fuel Efficiency
The Mazda CX-3 is incredibly fuel efficient, getting nearly 30 mpg in city and residential areas and almost 35 mpg on the highway. This is a plus for you and the environment as it means less use of fossil fuels needed to power the vehicle and very strong gas mileage. This does not get talked about enough, but is an outstanding perk, especially as gas continues to get more expensive.
Ready to test drive a Mazda in Portland, Oregon? Stop by Royal Moore Mazda or schedule an appointment to
take the Mazda CX-3 for a spin
. We know you'll like it just as much as we do!