If you're on the prowl for fun accessories to add to your Mazda3, look no further because
Royal Moore Mazda
has exactly what you're looking for. You'll feel confident knowing that you're purchasing genuine Mazda3 accessories that are guaranteed to fit and function perfectly and will surely satisfy your desire for perfection.
The 2018 accessories list make this vehicle a winner for Mazda enthusiasts, and with lower than average accessory costs, you'll be hard pressed to find a car that stacks up to this one.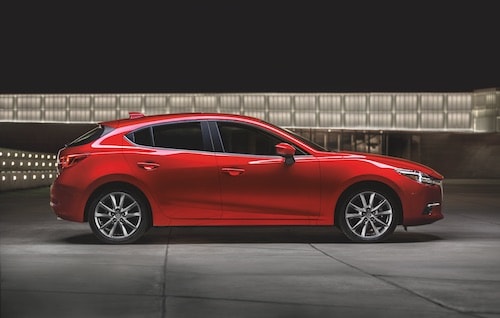 There is a laundry list of accessories that are created specifically for your Mazda3 and below you'll find three categories that will have your technology quest answered. Choose one option or all of them, and get ready to simplify your life and enhance your driving experience.
Audio & Electrical Accessories
We spend a lot of time in our vehicles—why not make every minute count. Let Royal Moore Hillsboro get you dialed in with the plethora of audio and electrical options available specifically designed for you vehicle.
If you want to bring the thrill back into your driving experience, technology is key. It's an integral part of our personal and business life, so making it a part of your driving experience should be second nature.
Want to connect your phone or MP3 to your dashboard and play your favorite underground tunes. Jump for the 3.5mm audio cable. And while it's always nice to be able to ride to your jams, it's just as beneficial to know where you're going. Add in a color navigation system and it will seamlessly sync with your car's display screen.
What's even better? It can be controlled with just your voice!
If you're the driver that finds parallel parking to be a challenge, then the Rear Parking Sensors will be your new best friend. Parallel parking is never an easy feat, but this system makes it such a breeze. Trust us when we say your parking skills will now impress your friends, as well any random person walking by as this feature will notify you of obstructions behind your vehicle with a sensor that will beep if your car gets too close.
Gone are the days of accidental bumps. Today, you become a parking master!
Are you a parent who's constantly wrangling your kiddos into the car with one hand and holding groceries with the other? Or a student with a stack of books and coffee in the other? Then you'll favor the Remote Engine Start. This is exactly what you need to ease up your daily routine. You'll have the luxury of starting your engine and heating & cooling systems from 300 feet away. And when the weather dips again, you'll have the convenience of defrosting your windows before you even step foot into your car.
If you're a tech junky and thrive on all things digital, then you'll be pleased with the Mazda Mobile Start. You'll now have the liberty to control several of your Mazda's settings through the convenience of your smartphone. And while a one-year subscription is automatically included when you spring for the Mazda3, you can add on more time for an affordable additional cost.
No matter your driving style, everyone will find the Mirror and Installation Kit to be a winning choice. This kit is serviced with HomeLink and allows you to program your garage, entry gates, and security lights via mobile technology. The smart mirror system is devised to reduce glare, so you can get to your destination safely. All of this at the touch of a button, so relinquish those extra fobs.
And, if you're one of the few people who still can't quit smoking, now your ashtray will light up if you so desire.
Interior Accessories
Now that we've covered your electrical accessories wish list, it's time to start thinking about what interior accessories to add.
Do you love hearing when the first snow falls on the mountain each year indicating it's time for ski season? Then opt for the all-weather floor mats. Now, no matter how many trips you take up to the slopes, your car won't show the signs come spring.
Do you regularly take the scenic route that leads you to explore uninhibited areas? A roadside assistance kit should be first on your list as it's easy to fly on the long open road and you want to stay safe if your tire goes flat.
Are you into water sports and can't stay away from the lakes and the rivers come summer? The cargo tray is made just for you. Not only will you have the space to place your gear, when water and debris inevitably buildup post adventure, this will make cleanup a breeze.
Why not enjoy the interior to the fullest? Treat yourself and your loved ones with added comforts this year.
Exterior Accessories
While our team at Royal Moore Hillsboro know you'll love your Mazda when you drive off the lot, even our most devout fans feel the need to enhance their ride a few months down the line and there are so many options to choose from.
At Mazda, we knew you would want to add your own personal style to the inside and outside of your Mazda3, so we made items specifically to fit your vehicle.
The moonroof is impossible to pass up, but the noise from the wind can make it less enjoyable than imagined. We have a solution for this conundrum. Add in our moonroof wind deflector and lessen both noise and glare.
Do you like to take regular trips to the coast and catch the epic Pacific Northwest swells? Then add on a Surfboard Carrier or Thule Board Shuttle.
If your more of a ski bunny, we have a solutions for you, too. Don't worry about sticking your equipment in the trunk or backseat. Instead, add more room for road trip buddies when you opt for a Thule Force Cargo Box or Ski/Snowboard Carrier.
Whether you need a sensor for safety purposes or simply crave an interior accessory for your to make your life easier, Royal Moore Hillsboro has your Mazda3 accessory department covered.
Let the experts handle installing your Genuine Mazda Accessories so you can have peace of mind knowing that you're in good hands and that the workmanship will be backed by a great warranty.