Ready to rev your engines and enjoy the summer weather? So are we. If you're driven towards racing like we are, you've come to the right place. In fact, Mazda has a long history of racing. And at
Royal Moore Mazda
, we're intimately familiar with Mazda history and the Mazda brand.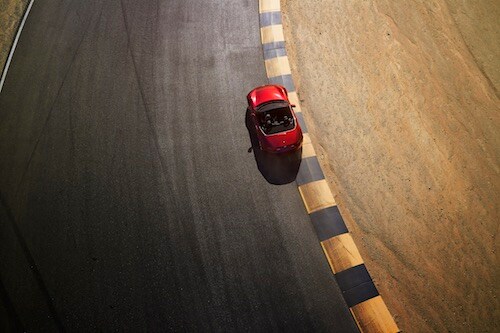 By manufacturing quality cars, Mazda has earned its reputation over the years in performance, reliability, and, of course, speed; so get ready to learn about Mazda racing history.
Racing History
Over the decades, Mazda has powered some of the best cars on the market. It's no wonder really, given its long tradition in motorsports racing.
Mazda is the type of car you can race on any day of the week and twice on Sunday. In fact, more Mazdas are road-raced on the weekend than any other brand of car. That proud tradition of racing stretches all the way back to 1968 and it's a tradition that continues today.
A highlight of Mazda history was winning the 24 Hours of Le Mans in 1991. But its racing accolades don't end there. That's because Mazda is committed to grassroots racing. The fastest growing racing class in the country is the SCCA's Spec Miata class, and the Mazda MX-5 Miata holds the distinction of being the most raced car in the world.
Get Started
Ready to get behind the wheel of your favorite Mazda and start racing? Royal Moore Mazda can help get you started. Mazda is committed to supporting racers at every level and has put programs in place to do exactly that. The
Mazda Motorsports Team Support Program
provides an array of perks and benefits, such as the ability to purchase stock and competition parts at discounted rates.
Better yet, it's free to join, making racing easier and more affordable than ever.
As you develop your skills, another thing you'll want to take advantage of is the
Mazda Ladder Program
, the most comprehensive racing development program in the world. Whether you're a newbie to the racing world or at the pinnacle of your career, our ladder program will help you every step of the way. Mazda has two ladder options—the open wheel racing ladder and the sports car racing ladder.
Both programs offer scholarships to assist and support you in your racing ventures. In fact, in 2015, Mazda offered more than $2.3 million in scholarships across both ladders.
Mazda Ladder Program Details
So how do they work? The Mazda Road to 24 ladder begins with grassroots racing. The champion of the first step in the series will receive a generous scholarship to continue to the next step on the ladder.
Similarly, the Mazda Road to Indy offers drivers the opportunity to climb from grassroots open wheel racing to IndyCar. In the 2015 Indy 500, the majority of racers came from the Mazda Road to Indy ladder. To prepare drivers for the pinnacle race, each series consists of road courses, street courses, and ovals. The Mazda ladder system is the perfect way to advance your racing career.
Everyday Racing
Feel like you need a little more practice before you start racing competitively? Mazda has just the solution for you.
Track days and high performance driving events offer you the opportunity to take your Mazda off the road and onto the track, providing a safe environment for you to accelerate your racing skills. Though you'll have to meet certain requirements, this is a great way for you to experience the full performance capabilities of your Mazda car. You can also check out upcoming Track Night events through the
Sports Car Club of America
(SCCA).
Ready to graduate to the next level? As you progress in your racing abilities, Mazda will help you make your way to the top of your class through a variety of cash incentives. To be eligible for Mazda's contingency program, you'll have to sign up for that Mazda Motorsports Team Support program we mentioned. You'll also have to meet other requirements as outlined in the contingency program summary
here
.
With a Mazda vehicle, there's no shortage of racing opportunities available to you. The type of Mazda you purchase will determine in which class and races you can compete. For instance, in SCCA racing, there are 19 classes in which Mazda and Mazda-powered cars are eligible. There are also multiple classes within NASA sanctioned events that Mazdas are eligible to race.
Which Mazda is Best for Racing?
Now, are you ready to get out there and start racing? Whatever your skill level, Mazda has just the car for you. The Spec Miata is one of the most popular racing classes in the nation. Extremely affordable and highly competitive, the Spec Miata is an excellent choice for grassroots racers of any skill level.
If you need a little inspiration to help you get started, check out the
bios
for some of Mazda's top racers, many of who are Spec Miata racers themselves. You'll learn about the qualities that set these Mazda racers apart from the rest of the field. You can even follow some on
social media
to learn more about their winning spirit and passion for racing.
Want to learn more about the Mazda history of racing? Visit us here at Royal Moore Mazda and we'll be happy to chat with you.
Fortunately, virtually every Mazda car has racing capabilities. After all, racing is a longstanding Mazda tradition. But we'll be happy to show you around our showroom floor and find the best model for you.
If you can't decide, then we'll take you out for a test drive. After all, what better way to find your dream racecar than getting behind the wheel? Join the countless others who will be spending their weekend road-racing their Mazda by hitting the road in your very own.