One of the great things about modern cars is that the latest technology is rapidly becoming cheaper and more miniaturized. This means that inexpensive cars can now come standard with cutting-edge features, and nowhere does that become more apparent than when shopping for a new Mazda.
Many incredible features have become part of the standard Mazda inventory and others come as upgrades you can have included for an added cost. Regardless of the make or model you choose from, you'll have access to an array of impressive new technology that will make your driving experience safer and more pleasant than ever before.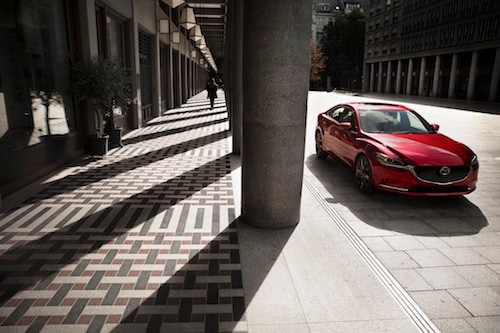 Now let's illuminate a few of those hi-tech features for you; and for further information, head to your
local Mazda dealer
and simply ask!
Temperature-Controlled Seats
One feature of the 2018 Mazda6 is perfect for improving comfort. Especially on long-haul drives, both the driver and passenger seats of other cars can become uncomfortable, either becoming chilly during the cold winter months or blazingly hot during the summer.
The Mazda6 boasts a new feature that makes those uncomfortable months a lot more bearable: temperature-controlled seats. Both the front and back seats in this model of Mazda come with three-stage heaters to keep passengers warm when it's frosty outside. They also feature ventilation that pulls air away from your back, wicking away sweat and preventing you from overheating during the hottest days of the year.
Radar Cruise Control
One new feature that dramatically improves both the convenience and safety of your Mazda is radar stop-and-go cruise control.
With older, low-tech cruise control technology, you set your car to maintain whatever speed you want, but if the car in front of you suddenly changes its speed, you have to hurriedly take over control again or risk a rear-end collision.
With Mazda's stop-and-go cruise control, you'll no longer have to worry about this during those long highway drives. With the help of radar and advanced computer technology, you'll be able to set the distance that you want to maintain behind the car in front of you, and your Mazda will automatically keep to that distance, adjusting whenever necessary.
This renders long journeys a lot easier—not to mention safer—for both you and other drivers on the road. The new technology is so precise that if you happen to enter a crowded spot of traffic, your vehicle will automatically slow down and even stop if necessary, picking up speed again once it's safe to move forward.
Programmable Gauges
One other benefit modern technology provides is in extending the life of your vehicle by keeping you up-to-date on its maintenance needs.
With the push of a few buttons, you can access important information regarding the function of your car's basic systems. You can test the speedometer, check that the fuel light is functioning, and get digital readouts of other critical systems in your Mazda.
Often, failure to diagnose problems early can lead to them worsening and, ultimately, force you to pay for expensive repairs that could have been avoided.
By taking advantage of the programmable gauges in your Mazda you will be able to catch problems before they become major and damage your car. The gauge display can be combined with the Active Driving Display, projected on the windshield.
A 360? View Monitor
When cameras were introduced on vehicles, they took a lot of the guesswork out of parking and removed headaches for a lot of drivers. In the new Mazda models, this technology has been taken to the next level with a 360? View Monitor.
This snazzy new feature makes use of no less than four cameras, allowing you a full, bird's-eye view of the car while you parallel park, back into narrow spaces, or attempt any other difficult parking jobs.
In addition, the Mazda makes use of eight sensors in the front and rear of the vehicle, which will sense obstacles and alert you if you are getting too close.
Unparalleled Comfort
All the technology in the world doesn't matter much if you can't stand being in your car. Comfort is a critical factor in the design of any vehicle, and the Mazda makes use of an ergonomic interior design to make the ride a pleasant one for both driver and passenger.
Mazda has completely redesigned the seats in the latest Mazda inventory models, allowing for more space and a gentle curve that fits the natural shape of the spine. The seats have also been constructed with high-density urethane, which absorbs vibrations to allow for a smoother driving experience.
A New High-Powered Engine
The engine in the Mazda has also undergone a redesign, taking its power and performance to the next level.
The 2018 Mazda6 comes with the direct-injected, four-cylinder SKYACTIVE-G 2.5T engine as an option. This engine, which received the 2017 "Ten Best Engines" award from Ward, was designed with a focus on both power and function.
While there are many powerful engines out there, that horsepower often doesn't translate to actual functionality in the real world. Mazda's SKYACTIVE engine was designed with drivers in mind, allowing you unprecedented control while delivering 250 horsepower and 310 pounds of torque.
This engine technology has also taken great strides in fuel economy by making use of a new cylinder deactivation system.
Infotainment Technology
Access to music, news, podcasts, sports, and radio is easy with the MAZDA CONNECT Infotainment System. For the latest models, the screen size has been increased, now eight inches as an inventory feature, and the graphics improved to meet modern drivers' demands for the latest technology.
You'll have access to navigation features and be able to make hands-free phone calls with ease. Real-time traffic information allows you to streamline your trips and four USB ports allow all passengers to charge their devices at the same time. Voice commands make for ease of use, while allowing you to keep your hands on the wheel, so you and your passengers are as safe as possible.
If the features in the new Mazda inventory models are leading the way in vehicle advancements. And at
this price
, it's hard to pass up.