Once again Mazda leads the way in providing safety to its drivers and passengers by including advanced technology as standard equipment, a full four years ahead of schedule.
Last September the Insurance Institute for Highway Safety (IIHS) and the Department of Transportation's National Highway Traffic Safety Administration (NHTSA) announced that 10 different automakers, including Mazda, had agreed to make forward collision warning (FCW) and automatic emergency braking (AEB) standard on their vehicles.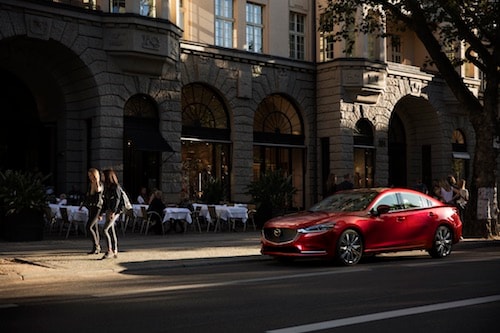 These standard safety features will be available on all new cars weighing 8,500 pounds or less by September 2022, but you can test-drive the future of safe driving now when you visit our Mazda Portland showroom.
As early as 2015, Consumer Reports began calling for the addition of AEB and FCW systems, previously equipped only on luxury vehicles, to be included as standard equipment on all new vehicles. The go-to source for up to the minute facts on consumer safety, Consumer Reports compared the proposed measure to earlier government mandates on seatbelts and airbags, calling it the next major step in automotive safety.
In July 2017, the U.S. Department of Transportation's NHTS and the IIHS brokered an unprecedented agreement with 20 automakers, including Mazda, to make AEB a standard feature on all new vehicles no later than September 2020, two years sooner than a government mandate would have required.
You can see all of Mazda's 2018 models equipped with these up to the minute safety features at our
Mazda Portland dealership
.
The Importance of AEB and FCW
The National Transportation Safety Board reported that rear-end collisions are responsible for as many as half of all two-vehicle crashes, claim nearly 1,700 lives and result in 500,000 injuries annually. But those numbers are about to be reduced. The IIHS estimates that at least 1.9 million crashes could be prevented every year using FCW and AEB systems.
Advocates of FCW and AEB have absolutely no doubt that the leading-edge technology will save lives and significantly reduce injuries caused in auto accidents, by preventing many collisions before they can happen.
The President and CEO of the National Safety Council, Deborah A.P. Hersman, stated at the announcement of the agreement, that the commitment made by the participating automakers would possibly save more lives than any other thing that might be accomplished in the auto industry in the next six years.
Providing the utmost in safety equipment for drivers and passengers is nothing new to Mazda. Their vehicles consistently meet the rigorous standards of the IIHS in Top Safety Pick and Top Safety Pick+.
Meeting the IIHS standards requires vehicles to have good crashworthiness ratings across the board along with front crash prevention ratings meeting advanced or superior performance. The "plus" is awarded to vehicles that are also equipped with good or acceptable headlights.
Further, Consumer Reports believes that FCW and AEB are so important they award bonus points to the overall scoring of vehicle safety if it includes these features as standard equipment across an automakers vehicle line.
How FCW and AEB Work
The advanced alert and braking systems use cameras, lasers and sometimes radar (or a combination of both laser and radar) to continually monitor the road ahead, warning the driver if the distance to the vehicle ahead is closing too quickly and a collision is possible. Warning devices include audible and touch alerts and/or visual cues. Automatic braking will either reduce the speed of the vehicle, thereby increasing following distance, or stop the car quickly when traveling at modest speeds.
Additionally, highway-speed AEB systems, which cannot completely stop cars traveling at faster speeds, can still reduce the speed and force of an imminent collision. Some can even prepare other safety equipment like seatbelts and airbags for the impact.
All 2018 Mazda models, other than the Miata sport car are equipped with standard FCW and at least low-speed AEB (able to stop a vehicle traveling at speeds up to 19 mph). Certain select models will include highway-speed AEB as standard equipment.
These Mazda models are equipped with standard FCW and AEB:
·
All 2018 Mazda-3 sedans and hatchbacks
·
2018 Mazda-3 Grand Touring includes standard equipped hwy-speed AEB
·
All 2018 Mazda-6 sedans
·
2018 Mazda-6 Grand Touring includes standard equipped hwy-speed AEB
·
All 2018 CX-3 subcompact SUVs
·
CX-3 Grand Touring includes standard equipped hwy-speed AEB
·
All 2018 CX-5 small SUVs
·
CX-5 Touring and Grand Touring includes standard equipped hwy-speed AEB
·
All 2018 CX-9 midsized SUVs
·
CX-9 Touring and Grand Touring include standard equipped hwy-speed AEB
Taking Safety Further
Mazda adds this cutting-edge warning and braking technology to an already impressive suite of safety features available in select models, including Active Driving Display that projects important information like traveling speed, vehicle status, and route guidance onto the windshield where the driver can see it without being distracted from the road ahead.
Also available with select models, i-Active AWD monitors road and weather conditions along with driving factors like speed and braking patterns, to determine the need for all wheel drive. Skyactiv Vehicle Dynamics with G-Vectoring Control makes for road hugging turns and almost effortless handling.
Like any cruise control feature, Mazda's available radar cruise control holds the mph at a chosen traveling speed, but it can also maintain a minimum following distance from the traffic ahead. And Smart City Brake can help prevent collisions by adjusting the brake pads closer to the disk for quicker braking in congested, stop and go traffic.
Finally a rear cross traffic alert system and advanced blind spot monitoring system on select Mazda models further help to prevent mishaps by detecting otherwise unseen vehicles in both left and right blind spots. It even warns the driver when fast approaching vehicles are about to enter the blind spots on either side.
Mazda Takes Safety Seriously
If the latest in auto safety technology is an important consideration when you're shopping for a new car, put Mazda Portland at the top of your dealership list. Our friendly sales staff will be happy to help you find the model that fits your driving needs while keeping you and your loved ones safe on the road.