If you are on the hunt for your next vehicle, you are likely immersed in visiting Oregon dealerships and doing the research that comes with picking the right make and model. There are thousands of different cars on the market right now and there are many Oregon dealerships to visit that allow you to look at the cars in person, too.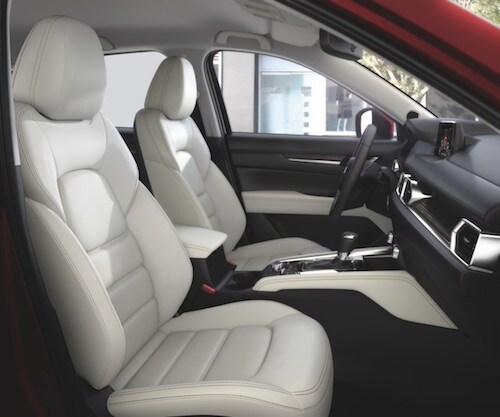 If you have made a list of your top-rated vehicles and the
Mazda CX-5
and the Toyota RAV4 have made the top two spots for consideration, it's time to do some further comparison on these crossovers.
However, there is no need to stress about choosing the right one, we can help! Here, we will compare these two vehicles in detail, so when you're ready to make the leap, you will know which car works best for your specific needs and lifestyle.
Is There a Difference Between Crossovers and SUVs?
A crossover is a vehicle that combines the features of an SUV (sport utility vehicle) and a passenger vehicle, like a hatchback or a station wagon. Some people use the term crossover interchangeably with SUV, even though there can be significant differences between the two. A crossover is made in a unibody style, where the body and frame are one piece. An SUV uses a body that is built separately from the frame then put on the car later.
Crossovers generally have four-doors, high ground clearance, and all-wheel drive. They also have a tall interior and will often have rear lift gates and fold down seats in the back that allow for enhanced storage and flexibility.
Crossovers will usually get better gas mileage than SUVs and they are not usually designed for off-road use. These vehicles are incredibly popular however, because they are comfortable to drive and provide the space that many families require.
All About the Mazda CX-5:
This is a sporty crossover SUV that looks good on the road. It's a five-seater vehicle that is fun to drive, but has limited storage space in the back. It comes in various styles—Sport, Touring, and Grand Touring.
Under the hood:
The Mazda CX-5 has a 187-horsepower, 2.5-liter engine that can run on half of its cylinders if carrying a light load. This means it will use less fuel and there will likely be a reduction in fuel costs.
It has front-wheel drive, which is typical for these SUVs, and there are all-wheel Mazda CX-5s that demonstrate great balance during hard acceleration situations. Overall, the Mazda CX-5 has scored well for safety and generally gets about 25 mpg city and 31 mpg highway.
The interior is well-made and elegant. The 2018 models have leather-wrapped steering wheels and the Grand Touring edition offers leather upholstery and other optional luxury features such as a heated steering wheel. The rear portion of the interior, including the cargo area, does not provide much legroom or storage space when compared to other vehicles in this category. For this reason, it could be considered a compact crossover.
The Outside:
The body style of this crossover is stylish, with a simple rear bumper, LED headlights and small tail lights. The Mazda CX-5 generally has larger wheels—17-inch alloy—which can increase road and wind noise.
What's the Cost?
Depending on the year and model you choose, Mazda CX-5 crossovers can range from $25,000 on the low end to $35,000 at the top end. We are proud to carry a variety of Mazda CX-5 crossovers, so contact us today to see one in person and take a test drive.
All About the Toyota RAV4:
This crossover is very popular and available in SE, LE, Adventure, XLE, Platinum, and Limited editions. It also comes in all-wheel drive or front-wheel drive.
Under the Hood:
All RAV4 versions have a standard 176-horsepower 2.5 liter 4-cylinder engine that works with its 6-speed automatic transmission. There are hybrid editions available as well that come with electronic all-wheel-drive systems. The engines run smoothly, but do not offer much get-up-and-go like other crossovers on the market.
The Inside:
The interior has an upright dashboard and comfortable seating options for passengers. The chairs offer good support and come in both fabric and synthetic leather options. In certain models, there are heated and power-adjustable fabric seats available. The cargo space is ample, with 73.4 cubic feet total when the second row is folded down. It does a good job in keeping the noise out as there is acoustic glass around the front passenger portion of the vehicle.
The Outside:
The exterior of the RAV4 has been redesigned a bit over the years, but the basic model is a familiar sight around town today. Most recent models haven't changed much since 2015. The style has been described as sophisticated with 17-inch alloy wheels, narrow headlights, a bulky back end, with a small front grille.
What's the Cost?
There are several different models of the RAV4 to choose from. Generally, RAV4 crossovers range in price from $28,000 on the low end to over $35,000 at the top end. We have a variety of RAV4s to choose from, so contact us today for a test drive.
Buying a new car doesn't have to be stressful. It can be a fun and exciting time! No matter what Oregon dealerships you choose to visit during your search for a new car, remember that our experienced team at
Royal Moore Mazda
is committed to helping you find the right car as quickly as possible. We love to share our knowledge about specific vehicle makes and models and no matter what, we provide excellence throughout each step of the car buying process.
Contact us today to schedule a test drive and talk to us about our various financing options. We look forward to serving you!