There are some cars that have their own fan club. The Mazda CX-9 is one such vehicle. From fuel-efficiency to safety ratings, the Mazda CX delivers. The CX-9 is perfect for families, young couples, or anyone that simply wants a great car with a ton of extra space.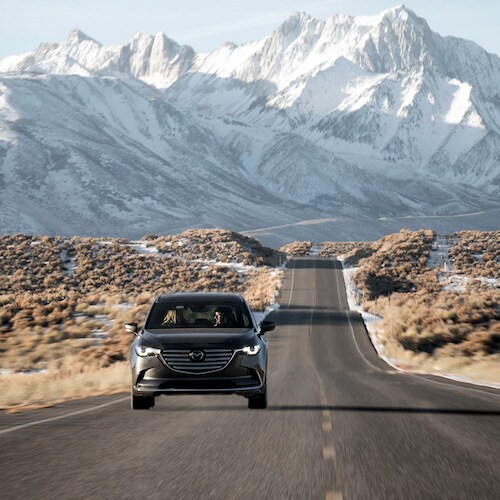 The following are some of the reasons why real people love the Mazda CX-9 and why
your local Mazda dealership
, Royal Moore, is often the first and last stop for those in the market for a new car.
Exterior Styling
The exterior of the CX-9 is superb in its simplicity—it's better than good, it's great. Fewer creases in the body used to indicate overt laziness, but the straight shape of the CX-9 works. The hood is longer than the front-drive architecture should allow, and the nose slants forward slightly in a way that has is reminiscent, in the best way, of a Volvo.
Rear roof pillars are arched slightly forward, which helps shrink its mass somewhat. Even the Mazda paint color looks like a budget breaker. Covered in a finely flaked hue called Machine Gray, the CX-9 glows.
In all configurations, the Mazda CX-9 punches above its weight classification and pulls in new awestruck fans at local Mazda dealerships around the country on a daily basis.
Interior Quality
Open the door, and
the CX-9 interior welcomes passengers
with a cabin that wouldn't look out of place in a luxury vehicle. Mazda has brilliantly arranged soft-touch plastic with handsome graining, brushed aluminum, and, if so desired, genuine rosewood. The dashboard is handsome and features heavily contoured areas with either a 7 or 8-inch touchscreen sprouting from the top; all controls are within easy reach of the driver. The leather steering wheel with its contrast stitching and metal trim create visual balance.
For the driver or one of its many passengers, the CX-9 is a delightfully elegant place to spend time. There's room for seven passengers with supportive seating that's extra roomy in the second row. That row also reclines making it ideal for napping on longer road trips, and it's now available with heated outboard seats. Even the third row, usually fairly tight in most SUVs, is perfect for the kids or for shorter trips with two adults.
All of this interior beauty can be thoroughly enjoyed because of how quiet the car rides. The newest CX-9 has a thicker floorpan, 53 pounds of sound deadening under the carpet, and an acoustically laminated windshield and front windows. The work pays off with a low 65 decibels of noise at 70 mph.
Fuel Economy
Regardless of how awesome a car may be, real people need their vehicle to be fuel-efficient. Within the SUV class, the CX-9 delivers. The CX-9 comes in with 23 mpg combined, 20 mpg city and 26 mpg highway, which is a really solid fuel economy rating for a vehicle this size.
All variants of the CX-9 are powered by a turbocharged 2.5-liter inline-4 that makes 250 horsepower on premium fuel. The turbo-4 is so good that it's easy to forget that the CX-9 doesn't have a V-6.
Safety Features
A car can be beautiful inside and out, have great fuel economy, even be priced well below its perceived value, but unless it is safe to drive, all of those aforementioned qualities really don't matter. The biggest reason why so many people are in love with Mazda CX-9 is its stellar suite of safety features.
The all-new 2018 Mazda CX-9 was recently voted an IIHS Top Safety Pick. Given that the IIHS has made the standards for their safety awards much stricter than they've ever been, any vehicle awarded with the IIHS Top Safety Pick accolade is on the cutting-edge when it comes to great safety features.
One of the best elements of the safety features that come in the 2018 Mazda CX-9 is the available i-ACTIVSENSE technology. This innovative suite of technological safety features utilizes sonar and cameras around the exterior of the vehicle to help prevent accidents from the occasional moment of inattentive driving. These features include things like radar cruise control, smart city brake support, blind spot monitoring, rear cross traffic alert, lane departure warning, lane-keep assist, high beam control, traffic sign recognition, and more.
The 2018 Mazda CX-9 has a ton of other great features for preventing accidents. These mechanical safety features will keep the driver in full control of the vehicle at all times and keep you out of harm's way. Some of these other preventative safety features include traction control, tire pressure monitoring system, an electronic stability system, braking assist, and speed-sensitive steering.
No matter how many preventative safety features a vehicle has, collisions are sometimes unavoidable. If a car accident is going to happen, it is important that the vehicle is going to help keep its passengers safe and the car itself as damage-free as possible.
Luckily, the 2018 Mazda CX-9 has the features to keep damage to a minimum, such as side-impact airbags, side-curtain airbags, occupant sensor, height-adjustable seat belts, and LATCH-compatible seatbelts. Safety, above all of the other great qualities of the CX-9, turn test drivers into car buyers at local Mazda dealerships
Pricing
The Mazda CX-9 trim levels offer four different ways to experience the luxury and power of this three-row SUV. Whether you're seeking the lowest Mazda CX-9 price for affordable travels or the most well-appointed trim available for your commute, drivers everywhere can find a perfect match at Royal Moore Mazda.
The base CX-9 Sport starts at $32,130, making it an affordable option, even if you add on the extra $1,800 for all-wheel drive. The Touring comes in at $34,960 and the Grand Touring comes in at $40,470. Even the top trim Signature, which only comes with all-wheel drive, starts at $44,315, putting a luxurious ride within reach for more buyers.
The Fan Club Keeps Growing
Since it was introduced into the highly competitive SUV market, the Mazda CX-9 has been winning hearts and making enthusiastic fans. The Mazda CX-9 is gorgeous inside and out, fuel-efficient, safe, and affordable. With new features only improving upon the previous year's model, the Mazda CX-9 is the down-to-earth SUV loved by real people everywhere.