In the market for a new, fun car, but are not sure which one to get? Of course, you want a car that is reliable and that can smoothly and easily get you from place A to place B. But shouldn't driving be more than that? It should be lots of fun, too.
Yes, you deserve a fun, energetic car. Now, which car are we talking about though? The 2018 Mazda MX-5 Miata, of course!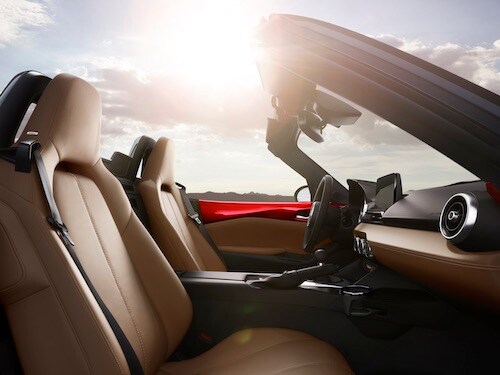 You may say that we are a bit biased here at
Royal Moore Mazda
—obviously we are going to recommend a Mazda for you. But, we also want to share with you how fun the 2018 Mazda MX-5 Miata actually is, so that you can fall in love with it too, just like we have here at your local Beaverton dealership.
The Mazda MX-5 Miata
Car and Driver
describes the Miata as a car that you want to get "for pure driving bliss," and goes on to state that it is one of the tops in their book (see, we're not biased—we just know good quality). In fact, in both 2017 and 2018, the Miata was named one of Car and Driver's "10 Best Car Winners." It was also given a five-star rating and listed as an editors' choice.
The Miata has a 155-hp 2.0-liter four with a six-speed manual drive. Not one for a manual car? No need to worry as you do have the option of purchasing a six-speed automatic drive if that is what you prefer.
This car is a two-seater, which makes it even more convenient to be able to scoot around. In addition to its compact size, the use of aluminum in the Miata is there to help make all of those turns, twists, and speed both possible and even more fluid.
Now that we have an overview of the Miata, let's take a closer look at the car your local Beaverton dealership can't stop raving about—the 2018 edition!
The 2018 Mazda MX-5 Miata
Of course, the 2018 Mazda MX-5 Miata also has a five-star rating from Car and Driver and has also been named one of its "10 Best Car winners." Why though? Because it's basically the car that you have always dreamed of owning.
The 2018 Mazda MX-5 Miata is a light car that makes driving feel effortless and almost as though you are floating on air rather than driving down a road. It's designed to properly utilize its tuned rear-wheel-drive chassis, as well as a sharp and easy shift manual transmission. And let's not forget, if you are the type of person where the sound of an engine revving is music to your ears, this car is the one to steal your heart, as it is very rev-happy.
As if it can't get any better, you have another choice to make that can fit your preference. What do you find more fun to drive around in: a classic soft top or a retractable targa-top? Both options are available to suit your needs.
On top of all of this, not only is this car satisfying to drive, but it is known for its preternatural handling; and it even gets good fuel economy!
Fun Colors
To add on to the driving fun, the 2018 Mazda MX-5 Miata does not just come in your plain old boring colors; how dull would that be? Instead, for 2018 edition, Mazda has added on models in an array of options.
If you choose to go for a model with a soft top, you can choose from a dark-red cloth top, a dark-brown leather interior, and four new paint colors. These colors are Eternal Blue Mica, Machine Gray Metallic, Snowflake White Pearl, and Soul Red Crystal. No matter what color you go with, you are sure to catch the attention of passersby no matter what road you are driving on.
If you prefer to go with the hardtop RF model, you have color options as well. In fact, this car can also be painted in the above-mentioned blue, red, or white colors.
Other Fun Features
In the 2018 Mazda Miata MX-5, the soft top option has a returned rear suspension for even more added fun, as well as a revised power-steering system. Doesn't hearing that just make you want to get behind the wheel and take it out for a little spin?
Additionally, both models have redesigned sun visors in 2018, because, of course, safety is always a priority when it comes to cars, and who wants to be blinded by the sun?
Standard features in general in both the soft top and the hardtop models have been improved, such as with a 7-inch infotainment display with rotary controller, heated seats (if you choose to go with the Club trims), and a proximity key with push-button start.
Now, where is the fun in driving, and especially in driving a convertible with the top down, if we don't mention music? Of course you want to be blasting your favorite songs while driving and both the soft top and hardtop models of the 2018 Mazda Miata MX-5 now come with HD radio compatibility. Not only can you listen to exactly the genres you want, but you will have that sharp sound blasting through your speakers. You will be sure to turn heads.
We know, this car is not for everyone. If you are looking for a family car with lots of room, this is not the car for you. But, if you are looking to finally purchase your dream car—the car that you always imagined yourself driving down the road—this is most definitely the car for you.
It's fun, it's attractive, and it is sure to get you the attention you want. Driving should not have to be a chore, and in the 2018 Mazda Miata MX-5, it most definitely is not.
Feel like taking it for a test drive? Just stop by our Beaverton dealership and we have one ready, just for you.