If you are car shopping in 2018, we want you to still think of 2017.
Confused? We understand if you may be asking yourself "why" after reading that statement.
However, the answer is simple – it's because everyone is still raving about the 2017 Mazda Miata. Are you not one of those people yet? If you are shaking your head, it's time to reconsider, and to add the Mazda Miata to your list of cars to look at and to test drive this year.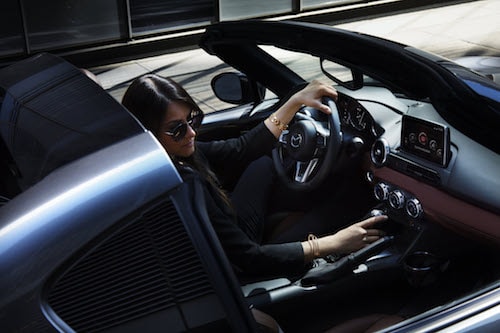 To make things even easier for you, we have some here at
Royal Moore Mazda
if you would like to stop by and see the car in person, or chat more about why the Mazda Miata is the right fit for you.
Top Tier Convertible
You have always dreamed of driving down the highway with music blasting, the sun shining down and the wind blowing in your hair, haven't you? Well, you can now make that dream a reality – without having to worry about all of the logistics and "problems" that come with owning a convertible.
Function is Quite Simply and Easy
The Mazda Miata function is operated manually. All you need to do is flip open the latch and jerk the top a bit upward, and that's it, the rest will open on its own.
To close it? Just reach over your shoulders and pull. If you have concerns over not being tall enough or strong enough to handle this, there's no need. It truly is equipped for everyone to be able to easily handle.
Power-Retractable Hardtop Also Available
Some people do not like or want the manual labor (despite how easy it may be), which is why Mazda came out with a power-retractable hardtop version as well. An extra plus to this? The car is even beautiful with the top on. In fact, it looks even more like a sports car when topped with the roof.
It's Affordable To Buy
That's right, an affordable convertible! Pricing for the 2017 Mazda Miata starts below $25,000. Most other convertibles? You know they start much higher than this. While some Mazda Miata models do exceed the base price, the basic option comes very well equipped with many of the accessories you desire.
And Affordable To Drive
We know what you are thinking now – "the gas to keep this driving must cost me." Well, no, it doesn't. The Mazda Miata has an EPA combined rating of 29 mpg regardless of whether you purchase the automatic or the manual transmission so you'll be able to zip around without care.
Mazda is Known for Longevity
You do not want to invest in a car that you just need to get rid of once the odometer hits six figures, we understand that, and we don't want that to happen to you either.
Mazdas are known for being well-built. They are a trusted brand. There are many Mazda Miatas out there being driven well over 100,000 miles. With some normal, responsible, routine maintenance, you should have this car for many years to come.
The Interior is Boast-Worthy
Easy-to-use controls? Check. High-quality materials? Check. The Mazda Miata hits both of those notes, but that's not all. The seats are specially designed to keep you in place while cornering. Plus, the interior the control layout offers minimal distractions, all of which encourage your inner speed demon.
Built for Speed
No, we are not telling you to take this to the NASCAR track and go for a whirl. But, if you are involved in autocross events, the Mazda Miata is the car that you want to be racing with, thanks to its small size and quick responses. Plus, the rear-wheel drive handling bias helps as well.
It Has History
The original Mazda Miata was introduced back in 1989. That seems like a while ago, but not so long ago we should be talking about history, right? Well, wrong. The Mazda Miatas introduced in 1989 were designed to be a recreation of a classic car, the British roadsters of the 1950s. Now that's some history.
AutoWeb Buyer's Choice for Best Convertible
That says a lot in itself, doesn't it? If you have not heard of AutoWeb yet, it is a media and marketing services network that connects both automotive dealers and manufacturers. The awards are giving based off the consumer searches and feedback on their website. Therefore, with the Mazda Miata winning best convertible, it's evident that it's really a people's choice award.
It Has Even More Rave Reviews
The Mazda Miata has a five-star rating on Car and Driver, a magazine dedicated to automotive news, car reviews, and car buying resources.
Car and Driver
even went on to describe it by saying that "for pure driving bliss, the Miata is tops in our book – it's so good, we named it 10Best Cars winner for 2017 and 2018."
Additionally, it has four starts on Motor Trend, a magazine that also features the latest news, car reviews, awards, and more.
Have you been sold on the Mazda Miata yet? There are a lot of great perks and points above that should all be considered when you are car shopping this year.
Plus, everyone should be the owner and a driver of a convertible at least once during their lifetime. We have all dreamed of sitting behind the wheel of a convertible. You can make that dream become a reality, and it won't break the bank like you thought.
The biggest perk of all though? You are investing in a reliable, long-standing car that if taken care of properly and routinely, will last you for years.